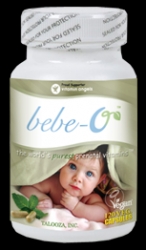 Are bebe-O Natural Prenatal Vitamins safe?
Yes, bebe-O Natural Prenatal Vitamins contain only all natural ingredients. In addition, bebe-O does not use any ingredients that come from animals or animal by-products. They are 100% vegan, so if you are concerned about putting any synthetic chemicals into your body, you don't have to worry. Bebe-O Prenatal Vitamins use nothing artificial or harmful and have no preservatives. There is no gluten in bebe-O vitamins and they are completely hypoallergenic so there is no need to worry if you have any allergies. Bebe-O Natural Prenatal Vitamins use only real plant based ingredients straight from Mother Earth.
What ingredients are in bebe-O Natural Prenatal Vitamins?

All mothers-to-be want to give their bodies and their babies all the support they need to stay strong throughout pregnancy. Although there are hundreds of opinions regarding prenatal vitamins, most doctors agree that prenatal vitamins should provide vitamin A, vitamin B6, iron, calcium, and zinc. Bebe-O Natural Prenatal Vitamins offer all of these in comprehensive easy to swallow capsules. Each all natural vitamin contains vitamin A and a vitamin B complex that includes B6 as well as B1, B2, B3, and B12. During pregnancy, it is extremely important to get enough iron. While pregnant, a woman gives iron from her body to her baby, and her red blood cell count rises. A lack of iron can lead to anemia and can negatively affect both the mother and the baby. Luckily, a day's worth of bebe-O Natural Prenatal vitamins provide 25mg of iron to keep mother and baby going strong. Calcium is another supplement to watch out for. Everyone knows that calcium is important for everyone to build bone density and strength, but during pregnancy a woman needs even more calcium than normal. While pregnant, a woman needs to get enough calcium to support her own bone health, while still providing enough to help build her baby's bones. A day's worth of bebe-O gives you 250mg of calcium which is only about 25% of your daily value. I would have liked to have seen more calcium in bebe-O Natural Prenatal Vitamins. Bebe-O also provides 8mg of zinc, which many doctors believe can help prevent birth defects and miscarriages.
Not only do bebe-O Natural Prenatal Vitamins contain the recommended vitamins A and B, iron, calcium, and zinc; bebe-O vitamins also provide vitamin C to support the immune system and keep mother and baby in good health. They also include 600mcg of folic acid, an important addition to any mom-to-be's diet. Doctors believe that taking folic acid (especially before and during the earliest stages of pregnancy) can help prevent birth defects. By taking bebe-O Natural Prenatal Vitamins and thus giving yourself enough folic acid, you can prevent serious neural tube defects such as spina bifida, anencephaly, and encephalocele. In addition, bebe-O vitamins contain a high quality combination of natural antioxidants which not only help keep the mother healthy, but may also prevent obesity and diabetes in her yet unborn child.
Is there anything else I should know about bebe-O Natural Prenatal Vitamins?
Yes, if you suffer from nausea or morning sickness, bebe-O may be able to help you thanks to the healing power of all natural ginger that each capsule contains. Ginger has long been trusted as a safe and natural way to combat nausea.
Although bebe-O Natural Prenatal Vitamin is not a bad option, neither is it our top rated vitamin. I encourage you to peruse our site thoroughly before deciding on a prenatal vitamin that is right for you.
Best Prenatal Vitamin
After doing some research and taking as many as 6 different types of prenatal vitamins, I found a prenatal vitamin that works well for me, its called Prenatalgyn. Prenatalgyn contains all the essential ingredients, that recent research has found to be supportive for a healthy pregnancy. On top of all this many professionals and consumers have written and stated great things about this product.
Prenatalgyn Prenatal Vitamin is simply amazing. It only took a few days of taking Prenatalgyn and I could feel a noticeable difference. I suffer from extreme morning sickness (Hyperemesis gravidarum) and the ginger in Prenatalgyn significantly improved my morning sickness, this was a huge blessing (if you've ever had morning sickness you know what I mean!). I was able to swallow the capsules easily. I also seemed to have a better appetite, and it included all of the most important ingredients at the right amounts. Prenatalgyn does not contain any artificial colors, preservatives, or hydrogenated oils which are not good to have. I would highly recommend Prenatalgyn if you're pregnant or plan to become pregnant. Read My Full Review
2 Responses to "bebe-O Natural Prenatal Vitamins"