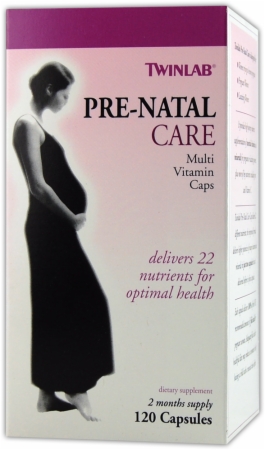 Does Prenatal Care by Twinlab contain all of your necessary vitamins and minerals?
Yes, Prenatal Care by Twinlab contains at least 100% of 13 essential vitamins and minerals that should be in your prenatal vitamin. It also contains smaller doses of calcium, magnesium, choline, inositol, and PABA to give a total of 22 nutrients to keep you and your baby in peak condition before, during, and after pregnancy.
Does Prenatal Care by Twinlab contain high-end ingredients?
Yes, in each dosage of Twinlab's Prenatal Care there are 10mg of inositol. Inositol, a naturally occurring nutrient, can help pregnant women feel more energetic and aids the conversion of nutrients into energy, improving your metabolism. It also helps keep your liver from collecting excess fat, leading to improved liver function. Prenatal Care also contains 10 mg of choline, a nutrient known as an "unofficial B vitamin." It is frequently grouped with B vitamins because it helps support several important developmental functions, including the structure of cell membranes. Studies have shown that getting enough choline during the early stages of life can improve memory and brain development.
Is Prenatal Care by Twinlab backed by doctors?
Prenatal Care by Twinlab is considered safe as a prenatal vitamin. However, as always, it is important that you talk to you personal physician before beginning any new dietary supplement.
Final Thoughts
If you Google "prenatal vitamin" you will get 648,000 results. There are obviously many vitamin options for pregnant women, or women trying to become pregnant. To make it easier, there are a few more things that you should know about Twin Lab's Prenatal Care before you make a decision. During pregnancy you want to make sure that you give yourself and your body all the extra nutrients you can. Most doctors can agree that a prenatal vitamin should contain vitamin A, vitamin C, vitamin D, vitamin E, Thiamin, Riboflavin, Niacin, vitamin B-6, folic acid, vitamin B12, calcium, iron, and zinc. While most prenatal vitamins provide these basics, not all prenatal vitamins are created equal. When checking the nutritional information of various prenatal vitamins, it is clear that Prenatal Care by Twinlab goes above and beyond the minimum of many of these nutrients. Prenatal Care can boast above average amounts for all of the standard recommendations above, as well as including nine more healthful nutrients – biotin, pantothenic acid, iodine, magnesium, manganese, choline, inositol, and PABA. In addition, this prenatal is 100% gluten free, sodium-free, lactose-free, and contains no preservatives, sweeteners, artificial colors, added sugars, milk or egg products, rice, barley, yeast, wheat, fish or fish oils, or tablet binders,coatings or colorings. In other words – this vitamin contains only what you pay for – 22 nutrients to keep you and your baby in the best possible condition.
Best Prenatal Vitamin
After doing some research and taking as many as 6 different types of prenatal vitamins, I found a prenatal vitamin that works well for me, its called Prenatalgyn. Prenatalgyn contains all the essential ingredients, that recent research has found to be supportive for a healthy pregnancy. On top of all this many professionals and consumers have written and stated great things about this product.
Prenatalgyn Prenatal Vitamin is simply amazing. It only took a few days of taking Prenatalgyn and I could feel a noticeable difference. I suffer from extreme morning sickness (Hyperemesis gravidarum) and the ginger in Prenatalgyn significantly improved my morning sickness, this was a huge blessing (if you've ever had morning sickness you know what I mean!). I was able to swallow the capsules easily. I also seemed to have a better appetite, and it included all of the most important ingredients at the right amounts. Prenatalgyn does not contain any artificial colors, preservatives, or hydrogenated oils which are not good to have. I would highly recommend Prenatalgyn if you're pregnant or plan to become pregnant. Read My Full Review